Our Academy and Select teams develop and encourages a love for soccer, sportsmanship and friendship while pushing each athlete to perform at their best. 
Coaching Philosophy
Our goal is to make a positive impact in our player's lives by focusing on physical and spiritual development. We strive to develop players at ever opportunity including practices, games and off the field events.  We maintain a fun, yet competitive  environment where athletes can develop as soccer players. We want players to improve their skills, demonstrate good sportsmanship, learn from adversity and grow as teammates.  
PreSchool
Our Pre-School program compliments a player's 1st or 2nd year of soccer or can serve as an introduction to the sport.  It strives to teach the fundamentals of soccer through a curriculum that includes fun, engagement, and age appropriate competition.
The program has eight sessions focusing on dribbling, passing, and shooting.  Devotionals are an integral part of each session led by licensed coaches.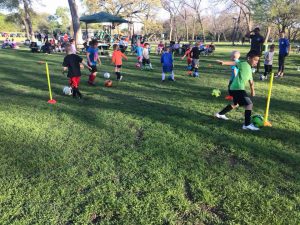 Camps
South City hosts Spring Break and Summer camps for soccer players and goal keepers.  The camps are managed my licensed coaches and focus on 
skills training, dribbling, shooting, agility, speed, passing and small sided games.  Devotions are incorporated into the daily camp program along with meaning prayer times with players.